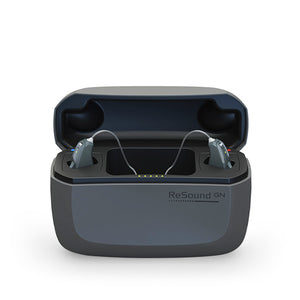 ReSound LiNX Quattro Rechargeable
The LiNX Quattro is the most advanced rechargeable hearing system, capable of 30 hours of usage per charge but also comes with a portable carry case which is a battery pack for your hearing aids which gives an additional 90 hour power supply to your hearing devices. The best part? It only takes 3 hours to reach a full charge.
The Quattro is a brand new hearing processing platform by world leaders GN, giving the hearing aid almost 40% fasting processing speeds, lower energy consumption and a level of hearing clarity that is at the forefront of hearing technology.
Brand:

 

Part of the GN group - one of the largest hearing device manufacturers in the world - Resound is the flagship brand of hearing devices for GN. Resound was first in the world to launch "smartphone-ready" hearing devices which connect directly from your hearing aid to your smartphone, whether the device is Apple or Android powered.

Style:

Receiver In Canal (RIC)

Battery life:

30 minutes charge for 8 hours of usage
3 hours charge for 30 hours of usage
Features

Portable induction charging system which is also a 90 hour reserve battery pack
Stream your telephone calls, audio and video directly from smartphone to hearing aids
The fastest, highest memory, distortion-free hearing device GN has ever developed.

Additional Information

N/A